Individuality, playfulness and fearlessness are the only rules they follow. Some of the UK's boldest and most adventurous creatives reveal how they dare to be different.
B
British interior design has often been associated with boldness and eccentricity. Take interior decorator Syrie Maugham, famous in the 1920s for her all-white interiors. Or Biba founder Barbara Hulanicki's 1970s London home, with its moody black walls and floors and opulent Art Deco furniture. In the 1960s and 1970s, David Hicks and Terence Conran were renowned for their audacious eclecticism. Hicks decorated the homes of his jet-set clients with antiques that jostled with boldly patterned carpets, chocolate brown and crimson walls, and artfully composed tablescapes. Conran brought together Italian pop furniture, Kilim rugs and Provençal kitchenalia.
More like this:
-        Why we need soft textures right now
-        What is a 'life of luxury' now?
-        The global story of a Dutch icon
With each new generation of British designers, the UK tradition of maverick interiors appears to revitalise itself. So suggests Bold British Design, a new book by Emilio Pimentel-Reid, the interiors stylist and brand consultant, with photographs by Sarah Hogan, which features the striking, fearlessly expressive homes and studios of 21 UK-based creative people.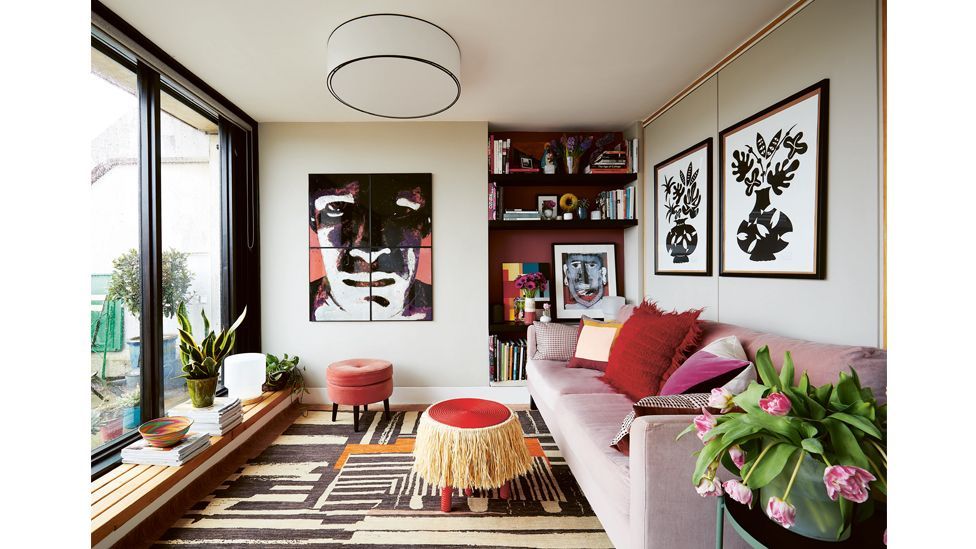 Georgia Collett's apartment is among the homes featured in a new book, Bold British Design (Credit: Sarah Hogan)
"The individuals we showcase have been chosen for the originality and boldness of their work as well as that of their interiors and to highlight a breadth of styles and design categories," writes Pimentel-Reid in the introduction. "The designers are bold, not just in the obvious sense of being colourful or quirky (as some gravitate towards muted palettes and their work is subtle) but they are all deeply original, fearless in their interior choices." BBC Culture spoke to several of the designers featured about their taste and understanding of what makes British creatives' interiors bold­ and why.
British taste borders on the eccentric, the tongue-in-cheek, the playful – Camilla Perkins
The variety of styles the book covers is echoed by the disparate types of buildings the featured interiors occupy, from a 1960s apartment block to an 18th-Century chapel. Camilla Perkins, an illustrator in her early 30s, lives in a cottage in Lewes, East Sussex, with her husband and two daughters. There is a strong correlation between the aesthetic of her illustrations – typified by offbeat colour combinations, busy, jazzy patterns and references to different cultures – and her home.
Formative influences on her funky, uninhibited approach to interiors and illustration include childhood memories of a Matisse exhibition that inspired her to create work as intensely colourful as his; visits to Charleston, the farmhouse rented by Bloomsbury artists Vanessa Bell and Duncan Grant, who adorned every inch of its interior with freely painted motifs; and her mother's taste. "My mum was a Brighton hippy in the 1990s," Perkins recalls. "She loved Turkish tiles and painted furniture, so after our Charleston visits, I'd paint all our furniture at home."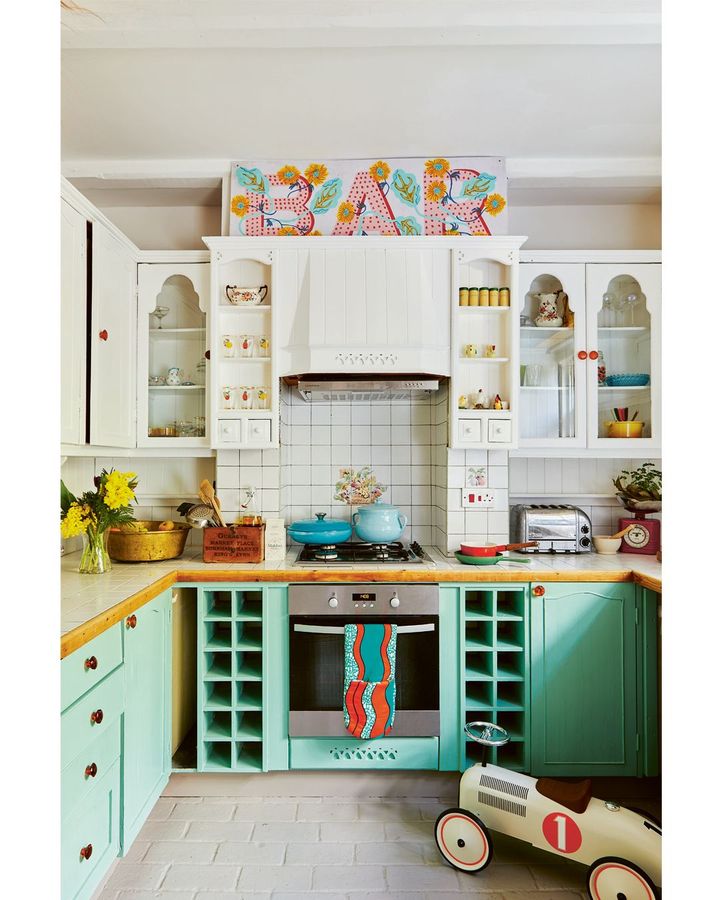 Camilla Perkins's home is decorated in offbeat colour combinations (Credit: Sarah Hogan)
Time and again, the book's interviews with creative individuals reveal that many of them grew up in boldly decorated homes. It seems that the confidence of previous generations has rubbed off on today's younger designers, inspiring them to furnish their homes in an adventurous, unselfconscious way.
Perkins's white walls provide a neutral background punctuated by colourful art and posters emblazoned with large-scale, decorative typography along with furniture painted by her (still a favourite pastime). In her cosy, casual living room is a Prussian-blue sofa covered in cushions of clashing patterns, while the kitchen has zingy peppermint-green units. "I gravitate towards what I consider a 1970s granny vibe," she says, summing up the style of her apparently motley but artfully arranged pieces.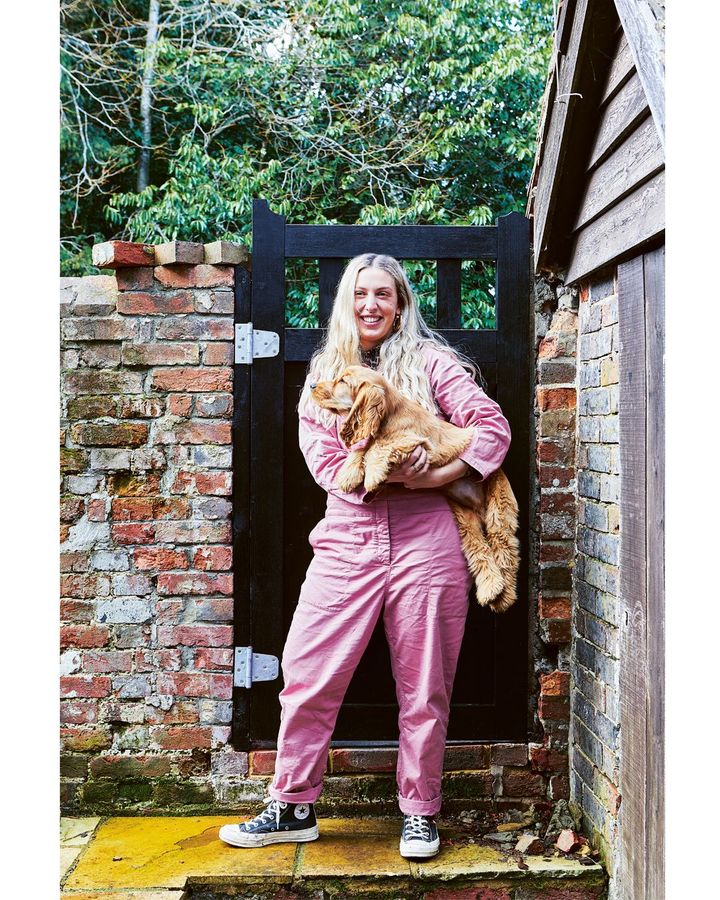 Perkins is an illustrator, and the aesthetic of her cottage in Sussex reflects her work (Credit: Sarah Hogan)
She proffers several reasons why British designers' homes are often unconventional: "British taste borders on the eccentric, the tongue-in-cheek, the playful. People here also want cosy interiors." The 1990s might have seen US-style minimalist interiors imported to the UK on a wide scale, but Perkins, like many others of her generation, feels they're ill-suited to British homes. "It works well in large, light-filled Californian homes but in smaller British homes it looks odd – as if you've only just moved in," she says. Perkins also loves suzani embroideries, Turkish kilims and embroidered Bagali kantha quilts for added colour and texture.
Famously experimental
Textiles in the form of rugs, textured cushions and bedspreads also feature prominently in interior designer Georgia Collett's duplex in the Alexandra Road estate, a pyramidal, brutalist housing complex in north London, designed in 1968 by Neave Brown. Never mind the potential incongruity of sumptuous textiles in the rationalist, pared-down setting of a modernist home – for Collett creating a comfortable, relaxing environment was paramount. "For me, comfort isn't about squishy sofas but about an easiness that doesn't feel posey. It's an emotional feeling."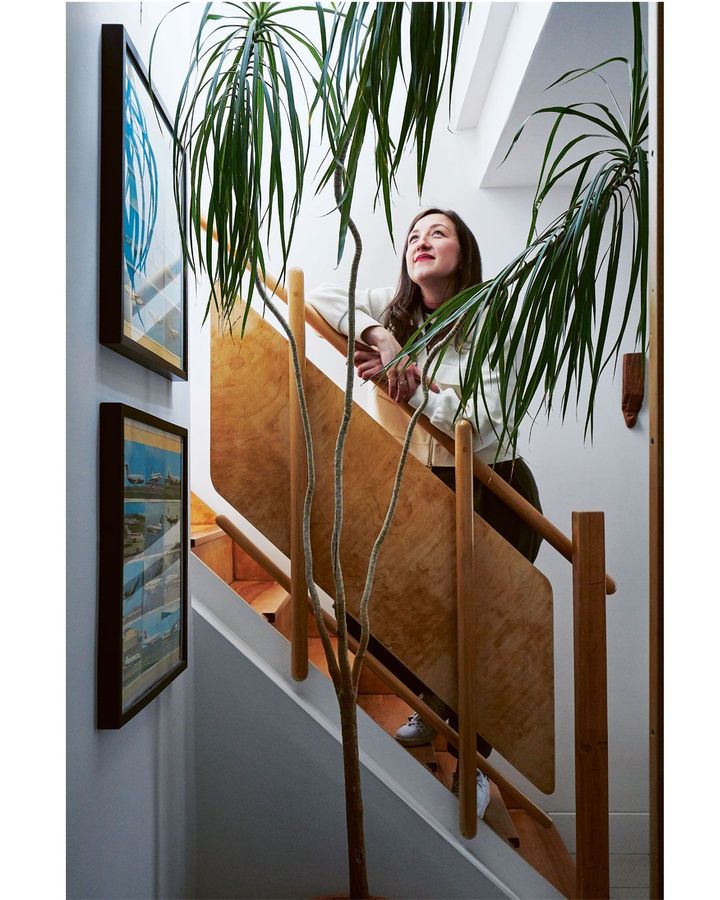 Georgia Collett says that British designers share an irreverent, experimental attitude to interiors (Credit: Sarah Hogan)
Collett's passion for textiles is particularly evident in her living room, whose sharp-edged architecture is softened by a pink sofa covered with cushions – including a plump, scarlet mohair one she made while studying textile design at London's Royal College of Art – and paintings in various styles and sizes. On the floor is a rug co-produced by Collett Zarzycki studio and design firm Christopher Farr, part of a collection based on artworks painted by Collett. Its mainly monochrome stripes recall the loose, gestural brushstrokes of the postwar French abstract art movement Tachisme. Perched on it is a playful stool by Christian Astuguevieille, whose lipstick-red seat is fringed with raffia.
"I think the book shows how British homes have evolved from the traditional perception of aristocratic, chintzy, clubby, wood-panelled interiors," says Collett. She attributes the edgy style favoured by British creatives to the UK's famously experimental art schools: "British designers have an irreverent attitude that dates back to art schools in the 1970s and the punk era. There's a reason why so many foreign students study art in Britain.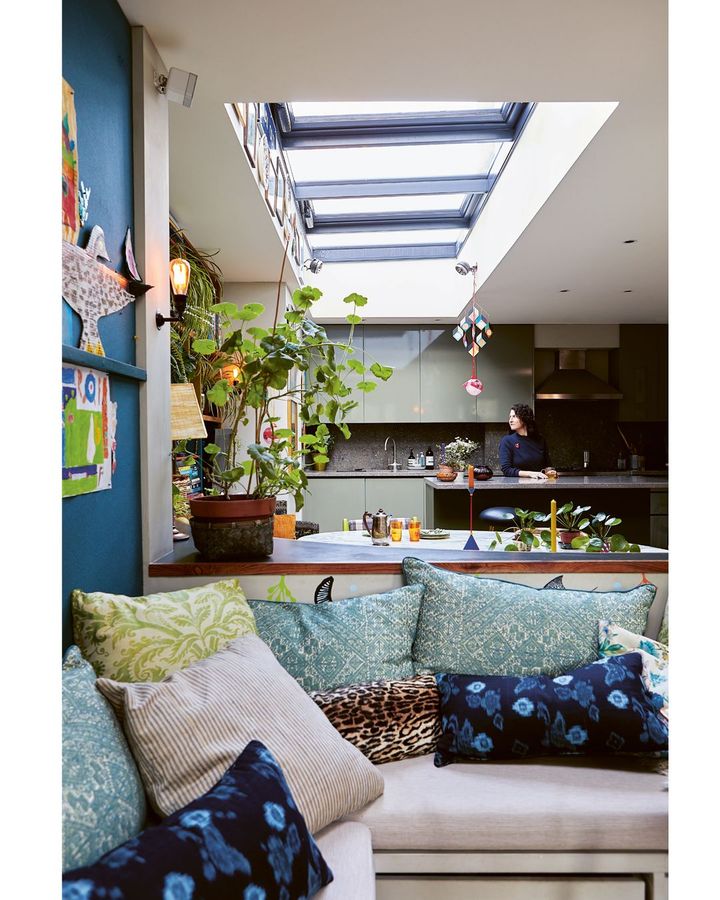 The home of decorator Lucy Hammond Giles is an eclectic mix of inherited pieces and quirky finds (Credit: Sarah Hogan)
Lucy Hammond Giles's west London home also feels contemporary, despite its boho, lived-in décor brimming with furniture, textiles and art given to her by her parents and grandparents. The decorator, who works at design firm Colefax and Fowler, and her family spend most of their time in the expansive kitchen-dining room. Here there are two banquettes, one upholstered in a pea-green fabric, the other strewn with cushions covered with ticking and leopard-print fabrics. Old maps, anatomical prints of skeletons and a dartboard, arranged higgledy-piggledy on air-force blue walls, form a surprisingly decorative backdrop.
I like mixing styles, periods, materials and textures. And I like pairing warm and cold colours – Hal Messel
Like Collett, sculptor and silversmith Hal Messel has adapted his unusual home – an 18th-Century former nonconformist chapel in Gloucestershire –­ to suit his needs. Around 1900, it was altered to satisfy the Victorian taste for ornamentation; vestiges of this include neo-Gothic stained-glass windows and words in gilt Gothic script bordering an arch. While the space is inescapably ecclesiastical, Messel wanted it to look "contemporary rather than churchy". He hired local architects Millar & Howard to convert the chapel, which hadn't been used for 30 years, into a cosier, more homely space. Accordingly, they divided the cavernous nave into three levels that house a workshop, kitchen and living room.
Despite its practical redesign and secular makeover, the space still looks strongly theatrical. This is partly down to Messel's family connections and to his preference as a designer for dramatic forms – his flamboyant, nature-inspired work incorporates crystals, or takes the form of shells and ferns. Oliver Messel, the eminent 20th-Century stage and costume designer known for his romantic, Rococo-inspired style, was Hal's great-uncle and Thomas Messel, his father, is a furniture designer.
In the living room are a sculpted griffin – the prototype for a table leg – and a silvery green and gold sideboard, both designed by his father. Elsewhere are framed costume designs by Oliver and paintings by artist Pepe Messel, Hal's mother. In the office are sealing-wax-red chairs designed by his cousin, Lord Snowdon, for the investiture of the Prince of Wales at Caernarfon Castle in 1969.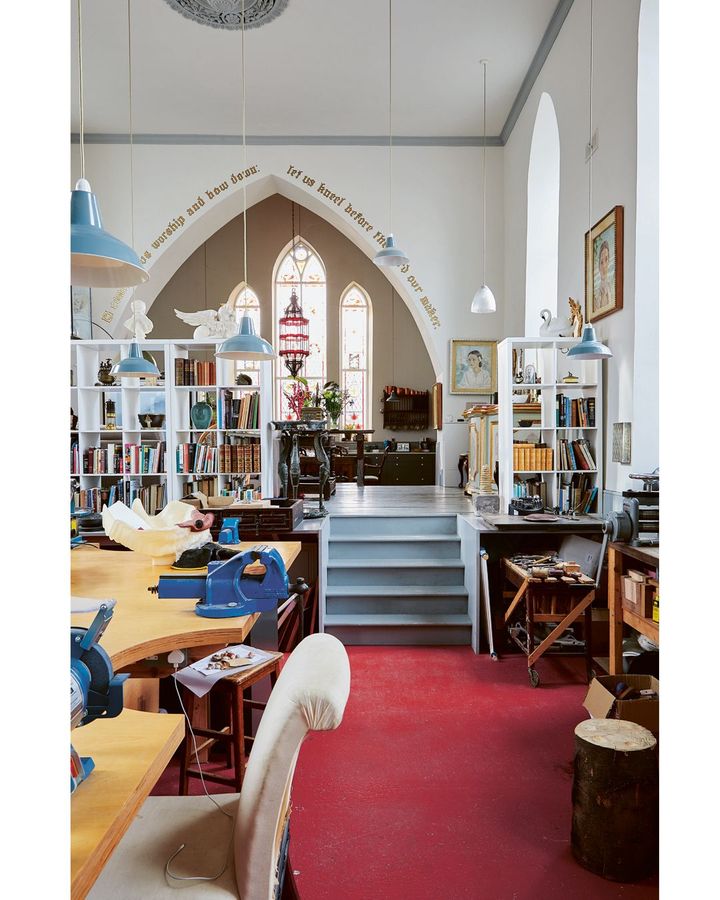 The sculptor Hal Messel has created a unique home and workshop in a converted church (Credit: Sarah Hogan)
Messel's approach to interior design differs from that of his relatives in one respect: it is pluralist rather than purist. "When I was growing up, my parents had an incredible sense of style – their homes were decorated to go with the architectural period of the house," he says. "Personally, I like mixing styles, periods, materials and textures. And I like pairing warm and cold colours. By having cool coloured walls and warm coloured floors and ceiling, or vice versa, you can create a dynamic backdrop." The floor of his workshop is painted red, while a Moroccan pendant light with red details echoes red accents in the stained-glass windows. "A combination of lighting – uplighters, downlighters and a table or floor light – transforms a space into a dramatic stage that evolves throughout the day", he adds.
Even spaces that are conventionally considered ordinary can look spectacular, as this book demonstrates. Witness the hallway in the London home of Keith Stephenson and Mark Hampshire, co-founders of homeware brand Mini Moderns, whose wallpapers and fabrics printed with stylised 1950s-to-1970s motifs give a contemporary spin to the mid-century style. The company's aesthetic is founded on a nostalgia for the pair's teenage years in the post-punk 1980s, when they loved buying 1950s and '60s fabrics at jumble sales. As a couple now, they admire mid-century ceramics by the likes of Terence Conran and Susie Cooper and textiles by Lucienne Day. 
The ceiling and walls of the hall of their four-storey new-build home, which also houses their studio, are covered in their emerald-and-silver Pluto wallpaper, whose fractured geometry references the disorientating 'dazzle' camouflage used to protect ships from enemy vessels during the two world wars. The pattern looks even more frenetic in this long, narrow, tunnel-like space. "It's quite a boring space and doesn't get much light," says Stephenson. "The wallpaper makes the space feel bigger. It's said that bold patterns make rooms feel oppressive but that's a myth: to us, they give a room more depth and character."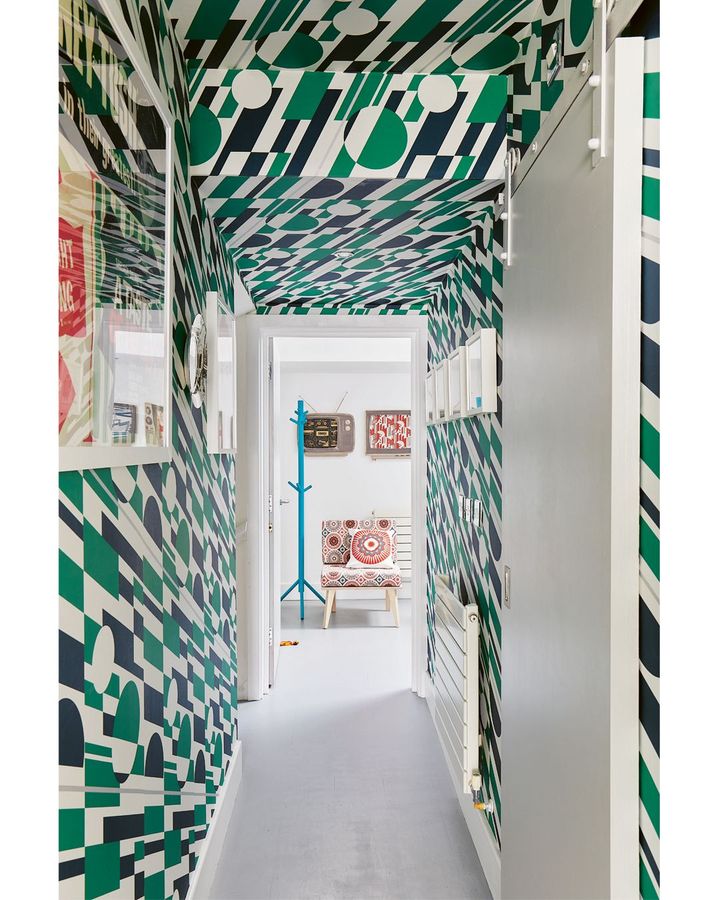 The founders of homeweare brand Mini Moderns have used their geometric Pluto wallpaper in the hall of their home (Credit: Sarah Hogan)
"For us, there's no dividing line between home and work, as our studio is in the same building," says Hampshire. "So we can try out our new designs at home. There's one wall in the living room that we think has 15 layers of wallpaper, dating back to 2004. But today, our job has been made much easier using the latest non-woven substrate wallpapers which are easy to hang and remove, allowing us to try out different looks quickly."
Their designs have also been inspired by visits to some of Britain's more forward-looking homes. "One of our favourite places is the Homewood in Surrey, a modernist villa designed in 1937 by architect Patrick Gwynne," says Stephenson. Indeed, the Homewood's avant-garde interior features a pull-down drinks bar, a sprung dancefloor in the living room, a built-in record player and a swimming pool. "Just as ours is a live-work space, it contained Gwynne's office, while also being the perfect party house."
Bold British Design by Emilio Pimentel-Reid and Sarah Hogan is published by Quadrille.
If you would like to comment on this story or anything else you have seen on BBC Culture, head over to our Facebook page or message us on Twitter.
And if you liked this story, sign up for the weekly bbc.com features newsletter, called The Essential List. A handpicked selection of stories from BBC Future, Culture, Worklife and Travel, delivered to your inbox every Friday.